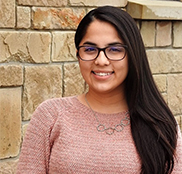 Abigail Perez was born and raised in Los Angeles, California. Her family moved to South Texas when she was about 18 years old. She attended the University of Texas at Brownsville where she graduated summa cum laude with a Bachelor's degree in Biology. She earned her Master's degree at the University of North Texas Health Science Center in Physician Assistant Studies.
Abigail has played soccer most of her life and had the opportunity to play at the collegiate level. Through this experience, she learned the value of teamwork, commitment and dedication. She believes that these values are imperative for successful patient care. She strives to develop a collaborative and accountable environment where patients feel they are working with a teammate.
She enjoys living in Fort Worth and spending time with her fiancé and two dogs.