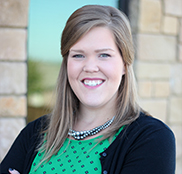 Jennifer Crumm is a transplant from Nashville, Tennessee, but is proud to be a native Texan. Jennifer was born in southeast Texas, and moved with her family to Nashville in 2001. She graduated summa cum laude from the University of Tennessee with a Bachelor of Science degree in Nutrition. Following her undergraduate degree, she completed a dietetic internship at Lipscomb University, earning her Registered Dietitian certification. Her academic career culminated with a Master of Science degree in Medicine from the Physician Assistant Program at Trevecca Nazarene University.
Jennifer's passion for medicine began at a young age. Growing up in her father's veterinary practice, she witnessed the marvels of medicine in the animal world, which motivated her to pursue an education in science. During her schooling, she became fascinated with the anatomy and physiology of the human body and chose a career path in medicine. Through her dietetic training, she enjoyed instructing diabetic patients and realized patient education was a pivotal component in patient care. After a personal experience in endocrinology, she found her niche in this specialty.
When Jennifer is not busy at work, she enjoys spending time with her family, experimenting with new recipes in the kitchen, exploring all the wonderful activities North Texas has to offer, and cheer on her University of Tennessee Volunteers during the football and basketball season.
Jennifer Believes her role is to be a compassionate practitioner who is an advocate for her patients and provides them with the comprehensive care they deserve. She is honored and excited to be part of the DTC family.